CTASLIVETM
Video and Audio Streaming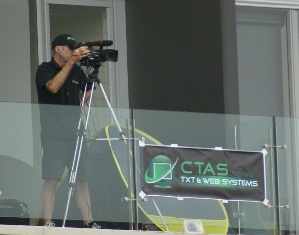 Features:
Live Streaming Video and Audio.

No special software required by watchers.

Available world wide.

Online Support via TXT.

Fully self contained.

Your Event Live on the Internet.

Additional Sound feed can be embedded in Live feed.

Live Streamed from over 35 locations.

We are a licensed broadcaster.

Fully self contained. We provide everything needed, and can even include our own power and internet in remote areas.
Professional Streaming. Your event will be seen world wide as your own production, without ads or other company's labelling.
Ctas Live On Demand as well. When we have live streamed an event, we make the recordings available on the internet. See recent events here.
Live Timing can be included in this service, as we have developed both of these products together. Read More ...
If you are interested in this, as an event organiser, or to advertise your company, please click here to contact us with your enquiry.